Comparte
Gen Z prefer watching live sport on the go rather than viewing it at home or in a bar – because it's more convenient.
A poll of 500 sports fans found 80% of those aged 18-26 will typically watch sport from their mobile phone while out and about.
Of those Gen Zers who generally consume games on their phone, 54% say it's more accessible than other devices while a further 38% claim it's how they access all their content.
It also emerged 74% of young adults also get most of their sports content from social media – more than any other generation with 65% of millennials doing this.
However, the study commissioned by Vizrt and conducted by OnePoll also found the love of live sport seems to be dying out among the younger generations, with just 58% of Gen Zs enjoying it.
Sitting down to watch a full game live could become a rare occurrence as the younger generation of viewers demand shortform snappy content, with younger viewers favoring watching highlights (23%) and 17% opting to watch a game after it aired on their own time via catch up.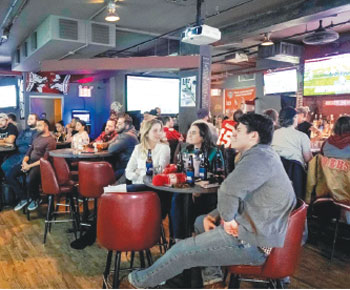 "There's a drastic shift in how the younger demographic are interacting with, and consuming sports content," said Pino Barile, head of sport, USA, Vizrt. "To truly keep these fans engaged, broadcasters must adapt their content for the younger generation's viewing habits.
Watching live sport in bars could soon be a thing of the past with only 1% of Gen Z watching by going to the bar.
The report reveals that all generations of fans prefer to watch sport at home alone (43% Gen Z, 32% millennials, 25% Gen X).
There is also a downward trend of engagement for football viewership, with only 29% of Gen Z and 30% of millennials listing football as their preferred sport to watch, vs 39% of Gen X.
The sports they are opting to watch instead are basketball, athletics and soccer.
Comparte