Comparte
Imagine perfectly fried chicken, followed by a delicious bite of a sweet and flawless waffle. It's just as mouthwatering as you imagine. We went on a mission to discover California's top chicken and waffles, relying on expert recommendations from a well-known food review platform. We discovered an eatery that exceeds all expectations.
The great appeal of comfort food knows no bounds. With an enviable blend of sweet and savory, California's beloved Roscoe's House of Chicken 'N Waffles tops the Love Food list in California for serving these divine delicacies.
Don't let the simplicity of its name fool you – Roscoe's serves more than just chicken and waffles. Their version of this classic dish, featuring succulent fried chicken atop a golden, fluffy waffle, is a bona fide LA favorite.
Established in 1975 by Harlem native Herb Hudson, Roscoe's now boasts several locations across southern California, becoming an integral part of LA's culinary tapestry. Their secret recipe has drawn visitors worldwide, eager to partake in this outstanding soul food experience.
While everything on the menu is worth trying, locals and tourists rave about Obama's Special. This hearty combo of three wings with a waffle, potato salad, or fries pays homage to the former president's favorite order. As a patron says: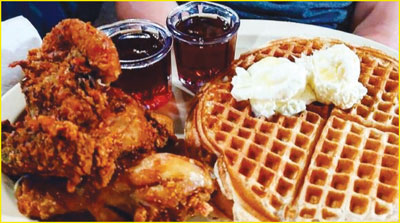 "The hype is real. The Obama Special is a must-try! The sunrise or sunset drink, another Roscoe's specialty, is perfect with it. The food and customer service are exceptional, and the old pub-like ambiance adds to the charm."
Whether it's your first visit or a long-anticipated return, Roscoe's House of Chicken 'N Waffles guarantees a memorable soul food journey.
www.newsbreak.com
Tell them you saw it in El Aviso Magazine
Comparte