Comparte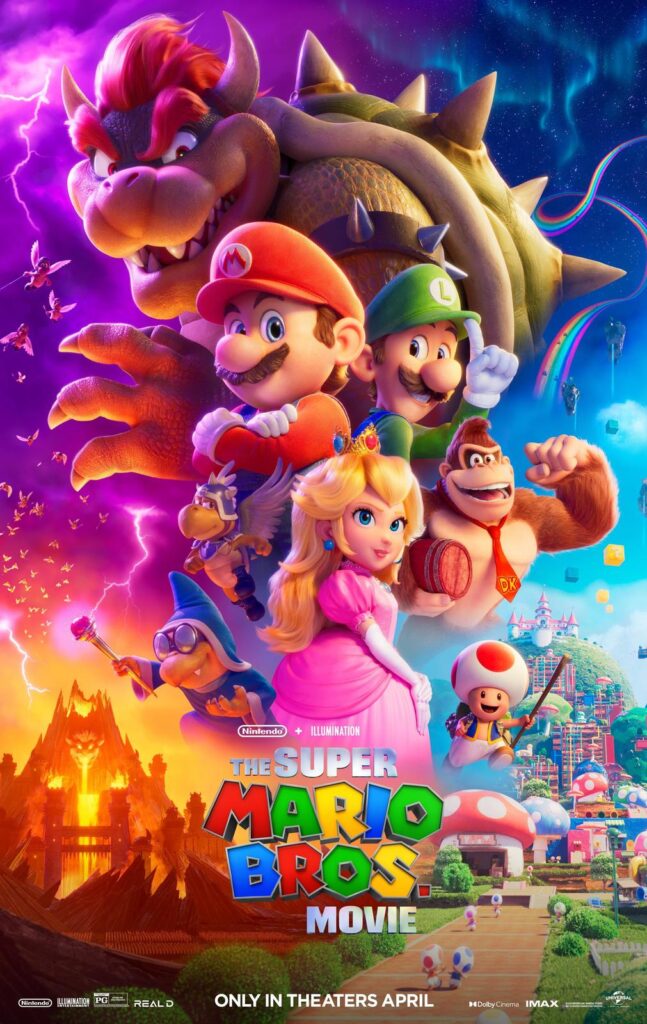 Tras haber generado más de un billón de dólares en todo el mundo, la mejor película del año irrumpirá en los hogares con contenido adicional nuevo en THE SUPER MARIO BROS. MOVIE 'POWER UP EDITION', disponible en Digital, 4K Ultra HD, Blu-ray™ y DVD el 13 de junio en EEUU y Canadá, de la mano de Universal Pictures Home Entertainment. Con una puntuación A en CinemaScore® y una Puntuación de la Audiencia en Rotten Tomatoes del 96%, esta espectacular película del año sobre la cultura popular producida por Nintendo y Illumination desembarca en los hogares con una experiencia mejorada y más de 30 minutos de contenido adicional que deleitarán a los seguidores de Super Mario Bros – de la mano de Universal Pictures Home Entertainment.
Con un reparto estelar que dará voz a los icónicos personajes que han dominado la cultura popular, THE SUPER MARIO BROS. MOVIE está protagonizada por Chris Pratt (de la franquicia Jurassic World), Charlie Day (It's Always Sunny in Philadelphia, The Lego Movie), Anya Taylor-Joy (Last Night in Soho, The Queen's Gambit), Keegan-Michael Key (Key & Peele), Seth Rogen (Neighbors, An American Pickle), Jack Black (de la franquicia Kung Fu Panda) y Fred Armisen ("Wednesday", Portlandia).
La película relata la historia de dos fontaneros de Brooklyn que, además de ser hermanos, son grandes amigos; Mario, el valiente de los dos, siempre tiene una actitud decidida, mientras que Luigi, vive en un estado de permanente ansiedad y preferiría no ir a ningún lado. Arrancamos con los Super Mario Brothers sacando las cuentas de su negocio de fontanería, y acabamos en un torbellino de aventuras a través de Mushroom Kingdom. Por el camino, conoceremos a un reparto de personajes adorables y familiares que acabarán uniéndose para derrotar a un villano hambriento de poder, Bowser. La película The Super Mario Bros. Movie reúne todo aquello que a millones de jugadores de todo el mundo tanto les ha fascinado durante más de tres décadas y lo convierte en una nueva experiencia cinemática que te dejará sin palabras.
CONTENIDO ADICIONAL EN 4K ULTRA HD, BLU-RAYTM, DVD Y DIGITAL:
Getting to Know the Cast – En estas piezas cortas que nos llevan detrás de bastidores, conoceremos de manera más cercana a las estrellas de la película y en qué se han apoyado para recrear a sus personajes en la pantalla.
Leveling Up: Making THE SUPER MARIO BROS. MOVIE – ¡Llevar a la gran pantalla a uno de los personajes más queridos del mundo de los videojuegos y recrear el mundo que le rodea no ha sido una tarea fácil! Los cineastas y el reparto desgranarán cómo se hizo la película.
THE SUPER MARIO BROS. MOVIE Field Guide – Súmate al reparto de THE SUPER MARIO BROS. MOVIE mientras acompaña a los espectadores por el contenido Bonus y Power-Ups de la película. Este vídeo inmersivo le permitirá al reparto interactuar con gráficas en la pantalla mientras van seleccionando el contenido Bonus o PowerUp específico de cada personaje y explicando para qué sirve, cómo se usa y qué efectos genera.
"Peaches" Lyric Video – Jack Black es conocido por su gran personalidad y, realmente, nadie más podría interpreter a Bowser. Así que prepárate para cantar durante su gran actuación musical mientras entona su serenata Princess Peach.
Leadership Lessons with Anya Taylor-Joy – Afrontémoslo: ser una princesa no es fácil. Afortunadamente, tenemos a Anya Taylor-Joy, gráficas personalizadas y clips de la película que nos darán los lineamientos de Princess Peach para ser un fantástico líder. Ofreceremos consejos y power-ups en tiempo real que los niños de todas las edades podrán usar en sus vidas diarias.
Portal web: www.thesupermariobros.movie/
YouTube: @UniversalPicturesAllAccess
Facebook: @supermariomovie
Twitter: @supermariomovie
Instagram: @supermariomovie
TikTok: @supermariomovie
#SuperMarioMovie
CINEASTAS:
Reparto: Chris Pratt, Charlie Day, Anya Taylor-Joy, Keegan-Michael Key, Jack Black, Seth Rogen, Fred Armisen, Sebastian Maniscalco, Kevin Michael Richardson, Khary Payton, Charles Martinet
Comparte