Comparte
Ever wondered what the best breakfast in California might be? A poll found that 37% of people choose pancakes! Quite a surprise, right? There are plenty of places to get a good pancake in California. Still, one griddle in Los Angeles stands out from the crowd. According to a recent Love Food survey, making what could be the best pancake you've ever tasted with 3176 five-star reviews.
THE GRIDDLE CAFE: LOS ANGELES'S PANCAKE PARAISE
Located on Sunset Boulevard near the DGA, The Griddle Cafe is gaining a reputation for serving some of the tastiest pancakes in Los Angeles.
Renowned for their famous Red Velvet 'panCAKE', smothered in cream cheese icing, this cozy café has become a top destination in Los Angeles food guides. The Golden Ticket pancakes, packed with butterscotch, walnuts, and streusel, have earned their place on California's favorite breakfast list.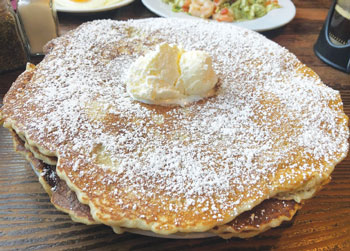 It's a small, cozy café with massive dishes that satisfy even the hungriest diner. On the weekend there is a line, but it moves along pretty fast. Regular Jerry G says:
"There are loads of breakfast places in Los Angeles, but this place is special. The Griddle Cafe is tucked away, so you really have to know where it is…Trust me, the wait is worth it!"
However, what keeps customers returning is more than the great food and massive plates. The friendly atmosphere, helpful staff, and top-notch service make for an unforgettable experience.
www.newsbreak.com
Tell them you saw it in El Aviso Magazine
Comparte